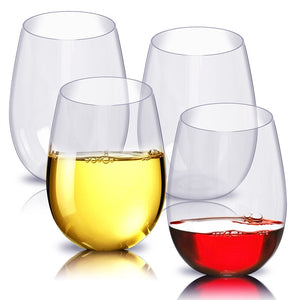 4pcs Shatterproof Plastic Wine Glass Unbreakable PCTG Reusable Transparent Fruit Juice Beer Glasses Cups
Description

Are you looking for a cup that is unbreakable, practical and also stylish? This item will be a wonderful choice. Made of shatterproof PCTG, the wine glass is safe to use and not easy to break. It does be an ideal outdoor party and gathering cup. Crystal clear look will show the drinks color perfectly and vividly.

Features

- Color: Transparency.
- Material: PCTG.
- Size: About 11.5 x 8.2 x 11cm.
- Premium PCTG material which is shatterproof with high temperature resistance for safe and durable use.
- Totally transparent which is super familar to glass cups. More elegant and high-end apperance.
- Anti-skid, wear-resistant and corrosion-resistant. Easy to clean, diswasher safe.
- Use as a mixed drinks and whiskey tumbler. Large capacity with chic shape for wine containing. Perfectly used at dinning table at any occasions.
- Portable and perfect for the poolside, barbeques, beach, camping trips, traveling, or a picnic.